WHO SAYS THE STANLEY CUP PLAYOFFS DOESN'T HELP REAL ESTATE?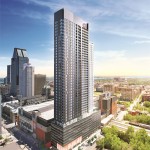 Tours des Canadiens – SOLD OUT. This Montreal real estate mega-project has earmarked itself in hockey obsessed Montreal. This will be the city's tallest residential condo and it will hold the title of Montreal's first and only sports and entertainment condo at the Bell Centre.
The team who is behind this lovely structure is Canderel, Cadillac Fairview, Centre Bell, Fonds Immoblier de Solidarite FTQ, and the of course the Montreal Canadiens.
The real estate in around Tours des Canadiens has skyrocketed to say the least. This structure is on the corners of Rue de la Montagne and Avenue des Canadiens-de-Montreal. It is ideal for sport enthusiasts and anyone who wants the best of city living.
The lucky new owners of this elegant building will also receive exclusive privileges such as unprecedented access to the HABS. This development will have a world class sports bar, luxury amenities, party rooms, a spa rain room, a fitness centre, and even a lounge with a dining area on the rooftop. This building will be connected to the Underground City which the residents will have easy access to the subway, trains, VIA Rail, McGill University and an incredible selection of shops.
The tower will be 50 storeys high and will consist of 552 units ranging from 500 square feet to over 2,000 square feet. The official ground breaking was on June 6th and is scheduled to open in the Fall of 2015. The Tour des Canadiens Condominiums had the record breaking sales within the Montreal Real Estate market, after only six months of opening its sales office, it became the fastest selling project in the city's history. Wow, that's not just great real estate but great for the city of Montreal!
There will be commemorative monuments of retired jerseys, the plagues describing past Stanely Cup wins, many of the Canadiens' historical milestones and four bronze statues will be moved to the new Centennial Plaza in the Windsor Courtyard.
So you see, being part of a team and teaming up with its real estate, really does work. If you are a HAB's fan, don't you wish you could have been one of the lucky ones who invested in this property or better yet, live there when it opens?
http://www.buzzbuzzhome.com/tour-des-canadiens