Books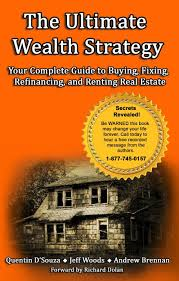 The Ultimate Wealth Strategy
Your Complete Guide to Buying, Fixing, Refinancing and Renting Real Estate
For years independant investors have been told to stick with buy and hold investing and leave the big results to the big players. On the other hand, the real estate world is flooded with misinformation about the profit potential and success ratio of marginal investing strategies like flipping or rent-to-own. In buy, fix, refinance, and rent, the authors share the ultimate wealth strategy for real estate investors, based on the timeless active investment principles of value buying, value creation, and excellerated results. This book is for the investor that knows there is more potential in real estate than what they've seen before. In an easy to read story telling style, this book will change your perception of what's possible as a real estate investor and provides a simple step-by-step process to teach it. Grab your copy today and change your life forever.
If you would like to talk directly to Jeff Woods, apply for a free strategy session (link to free strategy session)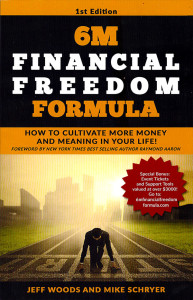 6M Financial Freedom Formula
How to Cultivate More Money and Meaning in Your Life
The masses would have you believe that in order to achieve financial freedom you must work hard, save your money and if you are lucky enjoy the golden years of retirement. Forget that plan; there is no reason to wait. Whether you are dreaming of a large income, traveling the world, buying back your freedom, or simply living and abundant life and working less, detailed in these pages is your formula to financial freedom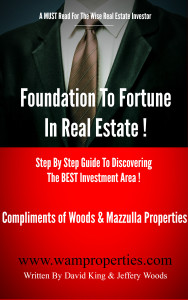 Foundation To Fortune in Real Estate
Step By Step Guide To Discovering The BEST Investment Area!
Your Step by Step Guide to discovering the BEST Investment Areas! This is a MUST read for anyone considering investing in real estate. Take advatage of this one time EXCLUSIVE offer for only $24.97!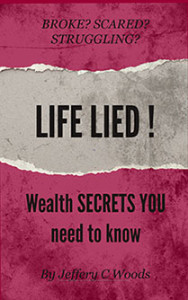 Life Lied!
Wealth SECRETS YOU need to know
A must read book that reveals some of life's lies! By knowing the truth you can create a life of wealth and abundance. WE understand that LIFE can be difficult at times so in an effort to help everyone with this valuable content we are pricing it at a very affordable $9.97. For a limited time only.