"10" REASONS WHY YOU SHOULD REPLACE OLD WINDOWS: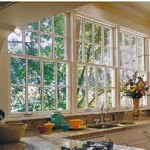 If you own an older home, and I do, there's a good chance that you should replace your windows if you haven't already. I had to replace mine recently and what a difference it has made. The old windows were charming but they were inefficient, most of them inoperable and rotting on the outside. Of course we had to weight the odds of cost versus investment.
The cost can run from $300 to $700 per window including the tear out and disposal of the old windows plus the installation of the new ones including the flashing/chalking on the outside. If you have to replace the window frame, expect to pay twice as much.
Windows maintain the temperature in your home, keeping the cold out in the winter and the heat out in the summer. The benefits of having quality windows are endless.
After weighing the options given the costs involved, here are "10" really good reasons why you should replace older windows:
10/ Windows that do not open or cracked are a safety hazard, especially if you have children. If there is a fire and you cannot open the windows is very dangerous. If they are cracked, the glass becomes more brittle in the winter which again can be dangerous for anyone operating the window.
9/ Poorly sealed windows can drive up your utility bills and diminish indoor air quality. Utility bills become less expensive with good quality windows because you use less gas to heat your home or use less electricity operating your air conditioner in the summer.
8/ Leaking windows allow water to come into the home, both in front and behind the walls. Excessive condensation could lead to wood rot or mold growth.
6/ Many old windows are made of dangerous materials. Old windows may contain lead paint which is dangerous for children and adults alike.
5/ You will never have to paint your windows again. They are very easy to operate and keep clean.
4/ Improve the security of your home and protect your furniture and carpets from fading due to UV damage. Newer windows tend to come with features like laminated glass, double seals and multi-point locks. They even have an anti-lock and lock indicator, so if you forget to lock your windows, they will lock automatically whenever you shut them.
3/ Cut down dramatically on outside noise. New windows are usually made of a multi-chambered frame which helps to keep outdoor noise from infiltrating into your home.
2/ Rebates from utility companies are given for new, energy efficient windows. For more information, you can contact your local energy company to obtain specific details. These incentives could save you hundreds per year. You can save as much as 35% annually when it comes to both your heating and cooling costs.
1/ New windows can boost your home's curb appeal. New windows are aesthetically pleasing. They will increase the value of your home and assist in obtaining a higher resale value, which is critical in today's real estate market. According to the Realtor's Association, people who get window replacements are able to make as much as 95% back on their investment once they sell their home.
Fraser Renovation Solutions has assisted with installing new windows in properties owned by investors with Woods & Mazzulla Properties. Buying older properties and renovating them has helped Woods & Mazzulla Properties' investors increase their wealth through real estate. I know that when thinking about windows you probably are not thinking about your financial freedom but believe it or not, it's a start!
Kind Regards,
Jeff Woods,